Program Partners – Amy's Farm
Amy's Farm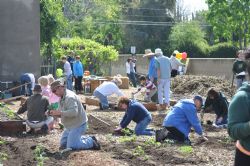 Since August of 2015, Inland Valley Hope Partners and Amy's Farm have collaborated to ensure the no, very low and low-income families Hope Partners serves have access to health-promoting, nutrient-rich vegetables, fruit, and other produce. Through this Healthy Living Program, volunteers work on the for-profit farm to grow fruits and vegetables. Amy's Farm donates a substantial percentage of its harvest to help feed families and individuals at Hope Partners' food pantries and family shelter. Our goal is to grow this partnership to the point that each and every client who comes to a Hope Partners food pantry or food distribution will receive fresh fruits and vegetables with their regular supply of food.
Volunteering at Amy's Farm
Amy's Farm hosts a volunteer work party Monday - Saturday from 9 a.m. to Noon (7698 Eucalyptus Avenue in Ontario). Tasks vary depending on the season, but volunteers may help perform the following duties: preparing seedbeds, fertilizing, composting, weeding, spreading mulch, staking plants, watering, or harvesting vegetables and fruits.
For more information on volunteering at Amy's Farm, please contact the Volunteer Coordinator at vcoordinator@inlandvalleyhopepartners.org or 909-622-3806, x108 or call Amy's Farm directly at info@amysfarm.com or call 844-426-9732.
Amy's Farm
7698 Eucalyptus Ave, Ontario, CA 91762
(844) 426-9732
Info@amysfarm.com