Our House Family Shelter
Our House Family Shelter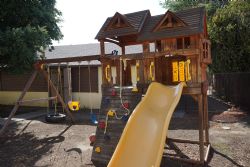 The Our House Family Temporary Housing Program serves children and their parents, as well as single women. The program's goal is to move families and single women from homelessness into safe, stable and affordable housing.
The program includes room and board plus the following supportive services:
Mandatory Case Management Services
Savings Plan
Psycho-Social Counseling
Housing Outreach and Assistance
Employment Assistance
Life Skills Training
Referrals to and Assistance Securing Mainstream Benefits
Tutoring for the Children
Transportation
Emergency On-Site Child Care
All services are provided at no cost to our clients.
The outcomes for this program include:
1) Increasing income through employment or mainstream benefits
2) Saving at least $1,000
3) Reaching at least 75% of established individual goals.
3) Securing and maintaining safe and affordable housing for at least four months after exiting the program
During the recent program year 90% of Our House clients moved into permanent housing and 85% left the program with employment. For more information, contact the Housing Office at 909-622-3806, x.106.
Individual volunteer opportunities include tutoring, homework help, assisting with eligibility screening, and data entry. Group volunteer opportunities include play dates for the children, providing meals on the weekends, occasional sprucing up of the shelter. For more information on volunteering, please contact the Volunteer Coordinator at 909-622-3806, x. 108.