Program Partners – CHAP and Amy's Farm
Amy's Farm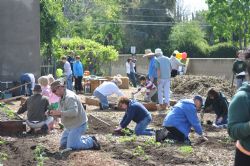 Since August of 2015, Inland Valley Hope Partners and Amy's Farm have collaborated to ensure the no, very low and low income families Hope Partners serves have access to health-promoting, nutrient rich vegetables, fruit and other produce. Through this Healthy Living Program, volunteers work on the for-profit farm to grow fruits and vegetables. Amy's Farm donates a substantial percentage of its harvest to help feed families and individuals at Hope Partners' food pantries and family shelter. Our goal is to grow this partnership to the point that each and every client who comes to a Hope Partners food pantry or food distribution will receive fresh fruits and vegetables with their regular supply of food.
Volunteering at Amy's Farm
Amy's Farm hosts a volunteer work party the first Saturday of each month from 9 a.m. to Noon (7698 Eucalyptus Avenue in Ontario). Tasks vary depending on the season, but volunteers may help perform the following duties: preparing seed beds, fertilizing, composting, weeding, spreading mulch, staking plants, watering or harvesting vegetables and fruits
For more information on volunteering at Amy's Farm, please contact the Volunteer Coordinator at vcoordinator@inlandvalleyhopepartners.org or 909-622-3806, x108.
Claremont Homeless Advocacy Program- CHAP
Claremont Homeless Advocacy Program (CHAP) is a grassroots program that seeks to end homelessness in Claremont by advocating for and supporting homeless adult individuals, primarily men, within the community. The program provides for the clients' immediate needs of food and overnight shelter while working with them to secure permanent housing.
What Makes CHAP Different?
Participants are identified within the community and visited where they "live" by trained advocates. Trust and partnership are built over time. Advocates & participants meet weekly, formulate a plan of action and navigate the maze of opportunities and challenges.
The Overnight Program provides participants a safe place to sleep. They also have access to clean bedding, laundry, showers, a hot breakfast, and a "to-go" lunch.
Community Cafes are held once a month every 3rd Sunday. It is time to share a meal, conversation, and friendship.
Advocates and Participants continue to work together to secure health care, access government programs, seek jobs and ultimately find stable housing.
For more information on CHAP, contact Ann Marie Sullivan at 909-267-9168
Volunteer with CHAP!
CHAP is always looking for compassionate volunteers to help us in our efforts
Opportunities include serving as a Host for the Overnight Accommodations
Becoming an Advocate Participating in our CHAP Cafes or breakfast programs
Serving on one of our work groups.
For more information on volunteering, contact the Volunteer Coordinator at 909-622-3806, x.108.